Round Hill Croquet championships - local interest is good
by Paul Bennett · 10 June 2019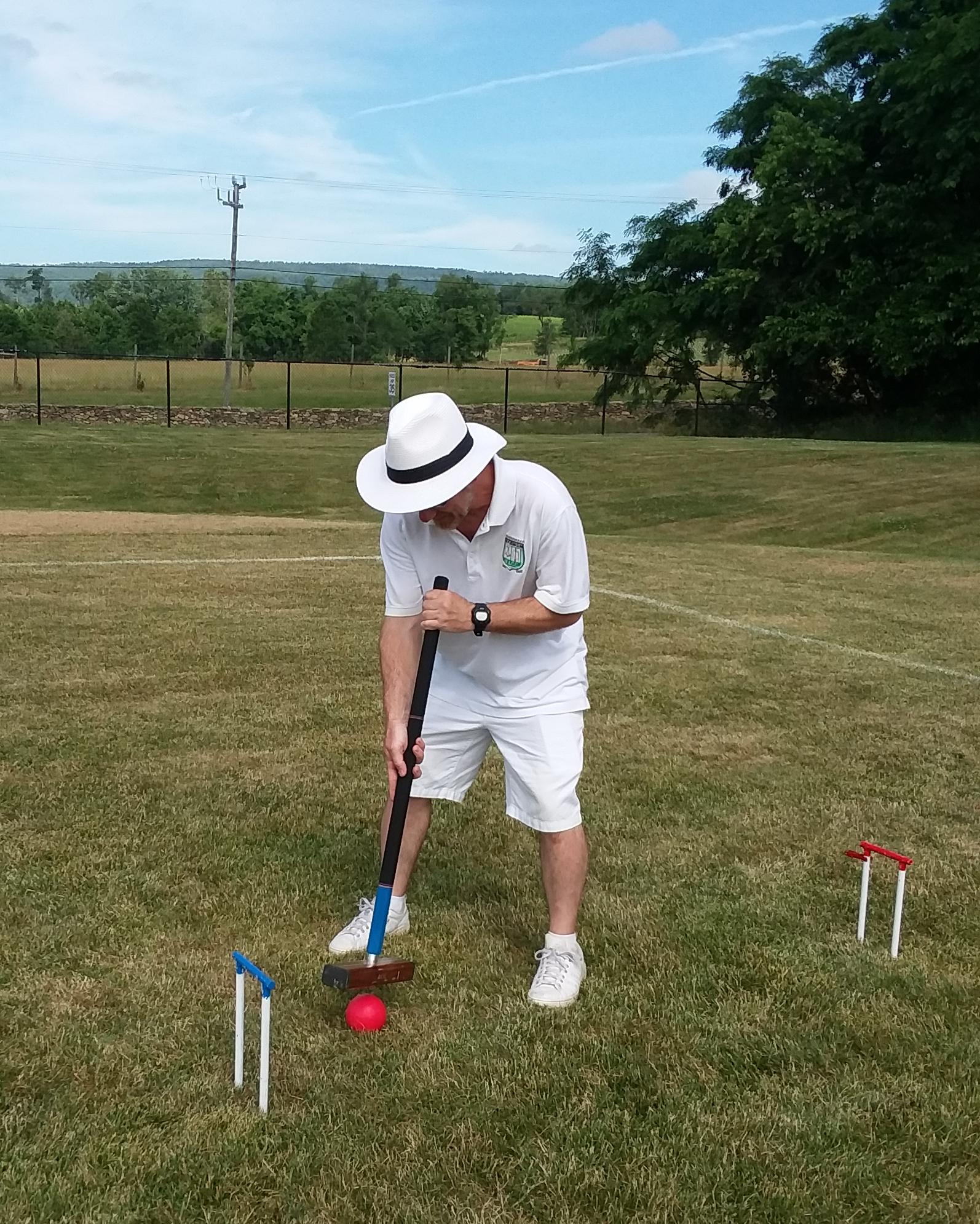 A tournament that was billed as the 9 wicket United States South East Regional may have begun a bit of a challenge between the South East and the Mid Atlantic regions. Members from the Capitol Croquet and Mid-Atlantic Croquet clubs of Maryland competed against players from the Chesapeake Bay Croquet club of Virginia as well as members from the National Croquet club of Florida.
There was enough local participation during the clinic and tournament to encourage Round Hill to form a 9-wicket Croquet club. The Loudon County Department of Parks and Recreation, Woodgrove Park in Round Hill provided the grounds for the croquet fields.
White and Warlick Win the Southeast/Mid-Atlantic Regional 9-Wicket Championship at Round Hill Virginia
The town of Round Hill Virginia contacted the USCA office last year and asked for assistance in helping the town get croquet established as a local recreational activity. The USCA agreed to help and offered to run a clinic to teach local players the game of 9-wicket and to run a regional tournament. With the help of the Loudon County Department of Parks and Recreation, Woodgrove Park in Round Hill was selected as the tournament site and the clinic and tournament were held on June 5-9.
The clinic was attended by local residents. Between clinic attendees and spectators at the tournament, there seems to be enough local interest to get a good 9-wicket club formed in Round Hill.
The tournament was attended by players from the Mid-Atlantic Region, mostly from the Capital Croquet Club and the Mid-Atlantic Croquet Club, both in Maryland. The Southeast Region was represented by players from the Chesapeake Bay Croquet Club in Virginia. There were even a couple of players that traveled up from the National Croquet Club in West Palm Beach FL to participate.
Championship Flight singles was won by Macey White from CBCC and second place went to Tim Hasty from CCC/MACC. 1st Flight Singles was won by Doug Murphy in a tough match against his wife Jill Murphy from CBCC. Doubles was won by the team of Macey White and John Warlick and second place went to Gil Rocha and Bryan Christiansen from CCC/MACC.
Special thanks go to the members of the Capital Croquet Club who set up tents at the courts and to Loudon County Parks and Recreation who lined the fields, cut the grass and otherwise made the courts playable.
Singles Championship Flight
Order of Finish
1. Macey White
2. Tim Hasty
3. Gil Rocha
3. Gail Warlick
5. John Warlick
5. Bryan Christiansen
5. Cindy Shepherd
1st Flight
Order of Finish
1. Doug Murphy
2. Jill Murphy
3. Billy Beam
3. Eric Carlson
Doubles Flight
Order of Finish
1. White & Warlick
2. Rocha & Christiansen
3. Hasty & Shepard
4. Murphy & Murphy
5. Beam & Carlson
Please, Comment:
Commenting is closed for this article.