News
01/06/19
An annual rite of spring, the Annapolis Cup brings together two starkly different schools—St. John's College and the U.S. Naval Academy—for a croquet match like no other. The community-wide event attracts several thousand people to the heart of Annapolis for a festive lawn party complete with outrageous costumes, old-fashioned picnics, swing dancing, and, of course, croquet competition.
Check back later for more information about 2019 ticket sales and ground rules.
The Annapolis Cup Croquet Match
Stats
With the 2018 victory, St. John's has won the Annapolis Cup 29 out of 36 matches; the Midshipmen have taken the trophy seven times. (See Victories below.)
History
According to legend, the rivalry began in 1982 when the commandant of the U.S. Naval Academy was speaking with St. John's freshman Kevin Heyburn and remarked that the Midshipmen could beat the Johnnies in any sport. "What about croquet?" was the Johnnie's retort. He later proposed the match to a group of Midshipmen in the interest of fostering better relations between the schools.
The Trophy
The Annapolis Cup, which has been housed everywhere from the Little Campus (now Galway Bay) to a storage closet to the front window of 49 West in Annapolis, is now kept by the victors.
Attire
The Midshipmen wear crisp, U.S. Croquet Association croquet whites, along with a team tie, varying from year to year. The Johnnie uniform changes every year, revealed only minutes before each match. Past years have included camouflage, tuxedoes, Viking clothing, kilts, and even imitation USNA Crackerjacks. Several Plebes in dress mess uniforms serve the players refreshments.
United States Croquet Association Collegiate National Championships: Both the St. John's and the Naval Academy teams compete in the United States Croquet Association Collegiate National Championships.
Traditions
In preparation for the match, both St. John's and the Naval Academy play the Ginger Cove Croquet Team, from the Ginger Cove retirement community. They have met a few weeks prior to the St. John's match each year since 1992. The day before the match, the Johnnies have lunch with the Midshipmen at the Academy mess hall, where the Imperial Wicket for the Johnnies formally challenges the Midshipmen to a match. The match opens with music. The St. John's Freshman Chorus sings and the Naval Academy Trident Brass band plays. The Johnnies emerge in their surprise uniforms. At 1 p.m., the ceremonial first ball is struck.
Etiquette
Courtesy and good sportsmanship are expected of all players. No players may throw a mallet or hit a ball in protest or anger. No trash talk is allowed.
How the game is played: The game played at the annual match is nine-wicket croquet. A full-size croquet court is a rectangle 100 feet long and 50 feet wide. Nine metal wickets and two wooden stakes are arranged in a double diamond pattern. The object of the game is to advance the balls through the course by hitting them with a mallet, scoring a point for each wicket and stake made in the correct order and direction. The winner is the first side to score 14 wicket points and 2 stake points for each of its balls. For the Annapolis Cup, each side has 12 players divided into two-person teams.
Victories
2018 – Johnnies
2017 – Johnnies
2016 – Johnnies
2015 – Johnnies
2014 – Midshipmen
2013 – Midshipmen
2012 – Johnnies
2011 – Johnnies
2010 – Johnnies
2009 – Johnnies
2008 – Johnnies
2007 – Johnnies
2006 – Johnnies
2005 – Midshipmen
2004 – Johnnies
2003 – Johnnies
2002 – Johnnies
2001 – Midshipmen
2000 – Johnnies
1999 – Johnnies
1998 – Johnnies
1997 – Johnnies
1996 – Johnnies
1995 – Johnnies
1994 – Johnnies
1993 – Johnnies
1992 – Johnnies
1991 – Midshipmen
1990 – Johnnies
1989 – Johnnies
1988 – Johnnies
1987 – Midshipmen
1986 – Johnnies
1985 – Midshipmen
1984 – Johnnies
1983 – Johnnies
——————————————-
29-7 Johnnies-Midshipmen
Event Proceeds
In addition to covering the cost of the event and supporting student scholarships, proceeds from the event will also benefit the following:

Light House, a homeless prevention support center
Centro de Ayuda/Center of Help
Stanton Community Center
Boys & Girls Club of Annapolis


12/31/18
The
USCA

to host SE & NE Regional 9-Wicket Croquet Clinic and Tournament at Woodgrove Park – Round Hill, VA – June 5-9, 2019

Croquet was once a game for just the rich and famous with white clothes and strict rules. But now the whites are out, the rules are no-holds-barred, and croquet is making a backyard comeback and ROUND HILL is leading the way in Loudoun County, Virginia!

Croquet is typically a friendly game, a backyard competition, a diversion to be enjoyed after burgers and before supper time but it can be played seriously as well. Those who play it often describe croquet as a combination of golf, pool and chess and report it is surprisingly good exercise for both the mind and body.
Crazy for Croquet in Round Hill
According to Round Hill town manager, Melissa Hynes, croquet is a good fit for the outdoor appeal of her quaint Loudoun County town. In fact, Mrs. Hynes and Loudoun County Parks and Rec and teamed with the United States Croquet Association (USCA) to bring a major croquet event to Woodgrove Park in Round Hill in June of this year. The USCA is sending 9-Wicket National Champion, Macey White, to Round Hill on June 5 & 6 to teach a 2-day clinic on how to play the "backyard" version of modern croquet called 9-wicket.
The clinic will teach participants how to set up a court, how to play the games of 9-wicket and golf croquet and the techniques one can master to be truly competitive in this skill-based game. According to White, "9-wicket can be played competitively in a persons' own backyard. Most of us think we played it as children, but it is actually a game of fairly complex strategy if played competitively. One of the great things about croquet is that it's good clean outdoor fun no matter how seriously one wants to take the game. Also, you don't have to be very large, strong or young to play the game very well. The 2016 World Champion was a 62 year old Stephen Mulliner from England and the 2018 World Champion was 31 year old Paddy Chapman from New Zealand"
Following the June 5-6 croquet clinic, the USCA will host a 9-wicket tournament on June 7-9. Cost is $20 to attend the June 5-6 clinic and $95 to enter the June 7-9 three-day tournament. Participants in the clinic can decide mid-day on the 6th if they want to participate in the tournament, and if they do, their clinic entry fee of $20 will be applied to their entry into the tournament.
Contact Macey White for details as to how to enter, accommodations and what to expect: MaceyWhite@gmail.com
12/30/18
2019 United States Croquet Association Nationals
9-Wicket Croquet Tournament
September 15-17, 2019
Chesapeake Bay Croquet Club
Hartfield, VA
Save these dates on your 2019 calendar.
To sign up for this event, enter online (login required), or call the USCA Office at (561) 478-0760. Entries can also be downloaded mailed to 700 Florida Mango Road, West Palm Beach, FL 33406.
Contact Macey White for details as to accommodations and what to expect: MaceyWhite@gmail.com
12/26/18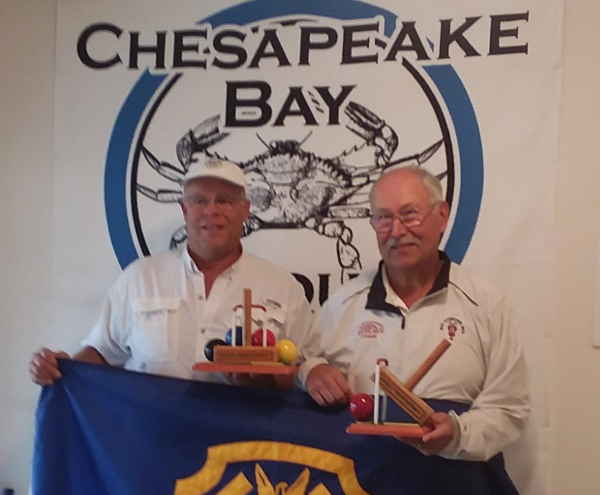 Championship Flight Singles
Macey White
Donald Parker
John Warlick
Leo McBride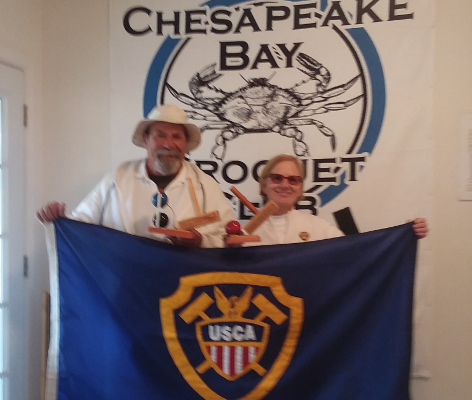 1st Flight Singles
Doug Murphy
Gail Rubin
Jill Murphy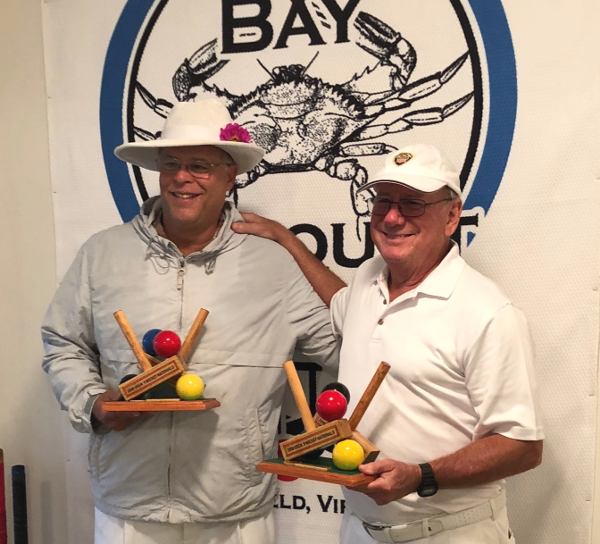 Championship Flight Doubles
Macey White & John Warlick – Winners
Leo McBride & Don Parker – Finalists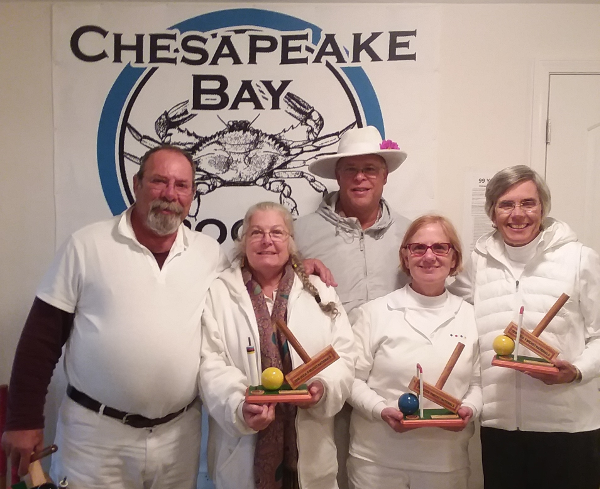 1st Flight Doubles
Gail Rubin & Karin Karel- Winners
Doug Murphy & Jill Murphy – Finalists
CBCC

Report

The 9-Wicket Nationals were held at the Chesapeake Bay Croquet Club on November 12 through the 14th, 2018. When the smoke cleared on the 2018 USCA 9-Wicket Nationals, two new national champions emerged. The first was the team of John Warlick of Florida and Macey White of Virginia who defeated Leo McBride of Canada and Don Parker of Maine in a very closely contested battle that went down to the last few minutes of the game. 1st Flight Doubles was won by new comer Karen Karel of Delaware with seasoned veteran Gail Rubin of Florida in a match that was decided in last turn by just a few wickets.

In singles play, Macey White bested Don Parker in two straight in the best two out of three to become the 2018 9-Wicket National Champion. This was Macey's first National Championship win. In 1st Flight, Doug Murphy of Virginia (playing in his first ever 9-wicket tournament), defeated Gail Rubin with two straight wins after losing the first game by one point. Doug won the final game with a 35 ft peg out with blue ball and then running two wickets and the turning stake with black on a one-ball break, all in last turn.

According to John Warlick, " The courts were the best that we have ever had the 9-wicket nationals played on. They were just the right speed and just enough wrinkles and changes to make them challenging for 9-wicket."

as reported by Macey White

Now 2018 is in the history books, here are the Past National Champions.
08/18/17
01/21/17
New Policy for St. Johns – Navy tournament
06/25/16
National First Flight played without carryover deadness.
06/24/16
Results of 2016 National Tournament
06/02/16
9th Running of the Menucha Croquet Tournament
06/02/16
Pulaski Park Venue for 2016 Nationals