News
11/17/19
Nine Wicket Committee Annual Report for 2019
by Paul Bennett
To: Sara Low
President
United States Croquet Association
700 Florida Mango Rd
West Palm Beach, Florida 33406
Dear Sara,
Thank you for asking for a report from me regarding our committee activities, purpose and whether we need additional responsibilities. I am looking through a folder of annual reports from 2011 through 2016. I am unaware of any reports prior to or after this time, but this of course does not mean that these reports were not delivered either in person, email or by other means – simply a record does not exist.
Website
I "got elected as committee chair" after I took over the responsibility of editing and overseeing the 9-wicket web site for the USCA. Jeff Soo made these pages separate and distinct from the USCA main website. This allows us complete freedom to introduce our own set of articles, rules and tactics sections. We can post pictures, articles and announcements. I received several good ideas from Mike Rumbin and Dylan Goodman. I have included a couple of historical articles about croquet from the middle 19th century.
One of these articles mentions the development of "scientific croquet" where folks began showing up at cocktail parties with "custom made mallets". The game had evolved into two orthogonal paths: one being based upon its social aspects of enjoying and meeting folks with an excuse to interact in a game of croquet, and another seriously based upon the sport of croquet, its tactics, rules and "scientific" refinements.
Events
As committee chair, I listen and observe, and sometimes stir up on my own, some ideas as to why and what our committee exists to do. One of the largest croquet events in America is the St John – Naval Academy Challenge. It is filled with ceremony, pomp and tradition. Their team captains are referred to as the Imperial Wickets. This tradition has been held for over 38 years. Their rules as they state on their website are handed down from the Imperial Wicket to the Wicket in Holding on an informal basis.
Another organization holds corporate events for a group in the Northeast, drawing well over 100 participants. The format was developed with Teddy Prentis to end up with a winner after only a few rounds of play. Many corporate events are held for team building development; others are aimed at raising money for a worthy charity.
Last year we held one regional in Virginia on the border of the SE and Mid-Atlantic regions. This regional held a clinic to introduce players to the sport of 9-wicket croquet using advanced options, similar to the 6-wicket USCA version of the game – rotation, deadness and out-game.
The players in this year's National came from a mixture of existing players and those that started in the regionals earlier in the year. The turnout this year was twice as good as last year. The lesson learned here is to offer more regional events to introduce players to our sport of croquet and to schedule tournaments well enough in advance to allow players to plan their schedule.
Rules
In 1987-8
USCA
rulebook, the laws of American Six Wicket, American Nine Wicket and Golf Croquet were all combined into the same bound book (50 pages total). Shortly, or the year after, these were separated into individual rule books. Once the
WCF
formed, it took ownership of Golf Croquet and Association Laws, leaving 6-wicket American and 9-wicket to the
USCA
's exclusive domain.
Under Mike Rumbin's leadership, the latest set of 9-wicket rules were adopted in 2016. This set of rules encompass a diverse set of options that describe a variety of playing rules from basic to very advanced expertise.
There has been some criticism of the rules as they stand, but most on the committee believe that they work well and allow tournament directors appropriate options that depend upon the court surface and expected player abilities. A few years ago, some ideas as to how to reword and clarify some rules were beginning to take hold under committee emails, but nothing happened at that time.
A motion to visit a set of rule options that would be mandated by the committee during the play at the Nationals (and possibly regionals) was not seconded and the motion failed to gain any support.
The rules are probably the most viewed section on the website. For good reason, this is the area that attracts the most visitors to the USCA 9-wicket site. A refresh of the rules might generate some additional traffic.
Name Change
An idea was proposed by Bob Kroeger to change the name of the committee, and thus we present this to the Management committee to decide between "USCA Nine Wicket and Long Grass Croquet Committee" or "9-Wicket/Long Grass Croquet"
I've held corporate events at the Wigwam on their grand lawn. We setup four 6-wicket long-grass courts and it would be great to acknowledge that the USCA supports this way to introduce the sport of croquet. We setup using the best equipment, mallet and balls. And we always tell them how the English play on well-manicured putting-green like surfaces. I suspect that this is done by other groups on an occasional basis as well. Why not promote this activity to sports and recreation directors across the country?
Two country clubs are looking to develop 9-wicket croquet on their established lawns as a gateway from Golf Croquet to learning and developing the basics skills required in our beloved 6-wicket croquet.
Long grass in the name allows us to introduce folks to the sport of Golf croquet and/or 6-wicket croquet. 9-wicket in the name allows us to remain attached to the long history of the American game while bridging the gap between Golf croquet players and the more challenging skills required in the 6-wicket game.
Near Future
In 2020, we look forward to having four regional tournaments and the Nationals in Louisiana near or on the LSU campus. I would like to see if 9-wicket can re-awaken in our players another way to think about croquet and how to develop it for fun and enjoyment.
Personally I do not believe that serious "scientific" players should partake in this version of the game, unless their goal is to help develop and groom a new set of players that they intend to introduce to our other USCA games, played on good courts, by exacting rules and in tournament conditions.
Otherwise, I look at the 9-wicket and long-grass croquet as a way to connect with the "social" players, the fun-loving group looking away from their iPhone and toward connecting with a charming partner as a team against another couple. The older groups may enjoy some networking time and a reason to raise some money for their cause. Either way, don't take it too seriously and don't swing the mallet in anger.
The USCA can help us maintain professionalism, a network for communication and connection to all of our member clubs and individuals.
Members
Thanks to our committee members for keeping us on track throughout the year!

Steve Fluder
Bob Kroeger
George Cochran
Ford Fay
Don Oakley
Sara Low


And thanks for the support from the USCA staff: Ursula, Johnny Mitchell, Jeff Soo and Dylan Goodman.
10/18/19
9-wicket and long grass schedule of events for 2020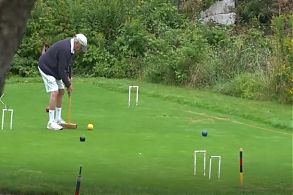 10/07/19
NORTHEAST HARBOR, Maine (WABI) – "This game here is more like your backyard 9 wicket game."
The Big Lobster Croquet Tournament is underway.
Folks gather in Downeast Maine aiming to become the Big Lobster Champion.
"This is the oldest 9 wicket tournament in the country. It has been a good draw for a lot of people to see Maine and play the game here."
Many of the players are top-notch croqueters from around the U.S. and Canada.
One participant has won the tournament twice and has also won the National Tournament.
"I practiced so much and got so good at it that I could beat virtually anybody, and that is what it takes to be a winner. I enjoy that. Winning is fun."
The first two days of 9 wicket doubles are played at the Claremont Hotel in Southwest Harbor.
The tourney then changes to 6 wicket play at the Woodlawn Court in Ellsworth.
"It's a consuming game. A lot of strategies involved. There is a lot to it, a lot more than what anyone can imagine."
"It's a precision game, I love precision. Being a retired dentist, I am a precision kind of guy, and so, I like the very nature of it being executed with precision."
"I'm told that anybody of all ages can play croquet and here at the Claremont Hotel there is even a children's court."
"You don't have to be in any great physical shape to play the game, just a desire to understand how to play."
The tournament was started in the late 1990s and has been played every other year since.
I'm told there is no end in sight.
10/06/19
The 2019 Big Oyster at the Chesapeake Bay Croquet Club was a unique and interesting experience. This was Chesapeake's first one-day tournament and turnout was good. 22 players total. 8 came from St. John's College in Annapolis, 7 from West River Wickets in Maryland, 5 from Chesapeake Bay and 2 from North Carolina.
This 6-wicket tournament was conducted in a modified-Swiss format. The Swiss is a non-eliminating tournament format. This tournament featured five rounds of competition. In round 1, competitors played opponents of similar estimated handicap. In later rounds, players were paired based on win-loss records and players did not play the same opponent more than once. Starting in the third round, there was a standard 8 person knockout embedded in the Swiss which was used to decide the top 8 places. Players were selected for the knockout based on their performance in the first two games. Interestingly, 7 of the 8 were from the original top 8 seeds. The surprise was beginner, and bottom seeded Steve Thurston made it in with two wins and no losses.
The Swiss-system is a great format for a tournament that does not want to eliminate players when they lose, allow a wide range of handicaps and allow players of similar ability to play one another while still doing a good job of determining the overall winner. In this tournament there were 22 players and 5 rounds of competition. Any player wanting to win the tournament simply had to win 5 games. All players were assigned 4 matches and given the option of playing a 5th. Other than the two players in the finals (who had to play a 5th) about half of the participants decided to play the 5th game which counted for the overall standings. After each game, playing assignments were made for the next game, based on win loss record, avoiding repeat matchups, and minimizing matchups between players from the same club. It was a big task for the tournament directors to get these matchups made between games but Macey White did it and everyone had a good time.
One thing about this format is that there must be an even number of participants to make it work and all games need to start on time. Thanks go to all of the players for helping to make this work!
Lee Jorde, was the tournament director and he came up with the idea for the tournament. Macey White was the assistant TD and did the pairings. The idea behind the one-day was to attract players who are otherwise busy during the week. People who work, students and players who just didn't want to tie up a whole weekend to croquet were happy with the format. In addition, it seems to be easier to encourage new players to play in a one-day tournament than in a longer tournament. This tournament had 8 players who had never played a sanctioned 6-wicket tournament before.
CBCC charged only $25 to enter the tournament and provided lunch. In the future CBCC will probably charge $40 to allow for better trophies and have a discounted price of $25 for students.
After the second round, seedings were made for the embedded 8 player "knockout" which decided the top 8 finishing positions. Players who got knocked out of the "knockout" continued to play in the tournament like everyone else. It was no surprise that upcoming star Tom Balding from St. John's was 1st seed. Local favorite Rick Darnell was seeded 2nd followed by Sean Miller (St. John's), Carl Johnson (CBCC), Steve Thurston (CBCC), Rodney Lassiter (NC), Jared Bassmann (St. John's) and Lee Jorde (West River and CBCC). In the first round of the embedded KO Lee Jorde had a surprise upset over Tom Balding in a game that featured several long breaks and few mistakes. Carl Johnson bested fellow CBCC'er Steve Thurston in a close match, Sean Miller beat Rodney Lassiter by 1 point Jared Bassman beat Rick Darnell. So in the first round or the embedded KO, the two favorites were defeated. In the Semi's, Lee Jorde beat Carl Johnson and Sean Miller beat Jared Bassman by one point to set up the Jorde/Miller final. The final game was a spectators delight with the lead going back and forth until Sean Miller finally prevailed in the end.
Everyone had a great time and all are checking their calendars to select another date to do this again. The order of finish was decided by the embedded knockout and then by win loss record for those not in the "knockout".
FINAL

ORDER

OF

FINISH
1 Sean Miller (Champion)
2 Lee Jorde (Finalist)
3 Carl Johnson
3 Jared Bassmann (Top Finishing Rookie)
5 Tom Balding
5 Rodney Lassiter
5 Rick Darnell
5 Steve Thurston (2nd Finishing Rookie)
9 John Lassiter
9 Ryan Eberlein
11 Susan Koepp
12 Doug Murphy
12 Jay Graham
12 Rodney Calver
12 Cynthia Chess
12 Noreen Rice
17 Isaac Hoke
17 John Rice
19 Angelika Alberstadt
19 Chris Musick
19 Jill Murphy
22 Mia Kablyski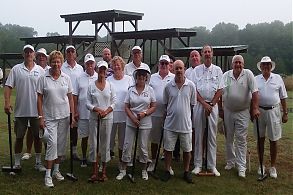 09/20/19
The Nine wicket 2019 Nationals, Hartsfield, VA were held September 15-17
Some photos of the event are posted here.
More news to follow …
09/06/19
The time to enter the USCA National 9-Wicket Championship at the Chesapeake Bay Croquet Club in Hartfield, VA, September 15–17, 2019, has been extended by Macey White.
If you are still interested in attending, please let us know as soon as possible.
08/22/19
One month to enter the 2019 Nine Wicket Nationals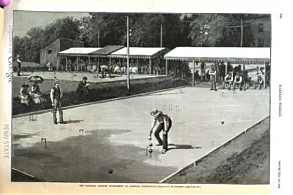 06/24/19
The new croquet grounds in Norwich CT were set on the Robbins lot, on Cliff street. The date of this article is unknown but is likely to be 1870s or so … and interesting read.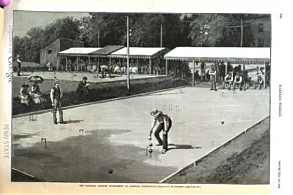 06/24/19
Norwich Connecticut founded a National croquet tournament in the mid 1800s. This new club must have been done to meet the growing needs of the players of the scientific version of croquet – where croquet is played on smooth finely tamped down clay. Mention of Roque is also included this article when one court was built with rubber bumpers around the edge.