USCA 9-Wicket Group
by Michael Rumbin · 11 February 2016
The USCA 9-Wicket Group is part of the United States Croquet Association, the official governing body of croquet in the US. The 9-Wicket Group's mission is to organize croquet players across North America who prefer to play the sport in a time honored and traditional way—what is often called Backyard Croquet.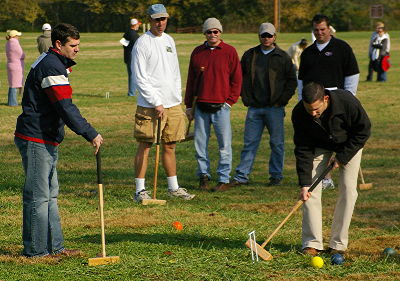 We organize, promote, and encourage croquet players continent wide to participate in and create tournaments throughout the year as the weather allows. While we have codified a set of rules, we respect the unique rules played by the thousands of players who have their own traditional way of play.
Join us!
Become a member of the United States Croquet Association. Learn the 9-wicket game, as well as other games which you may wish to play on long grass. Maybe you will become interested in joining a local club or playing in a tournament not far away. Or maybe you will form a club in your neighborhood and invite your friends to come join in the fun!
Your membership dues help support the USCA's efforts to promote all forms of croquet in North America.
You can join by calling the USCA office at 561-478-0760 or by mailing in the downloadable form: MembershipApp.doc
[DOC, 60 kB]
Commenting is closed for this article.