Johnnies Win 2019 Annapolis Cup
by Paul Bennett · 21 May 2019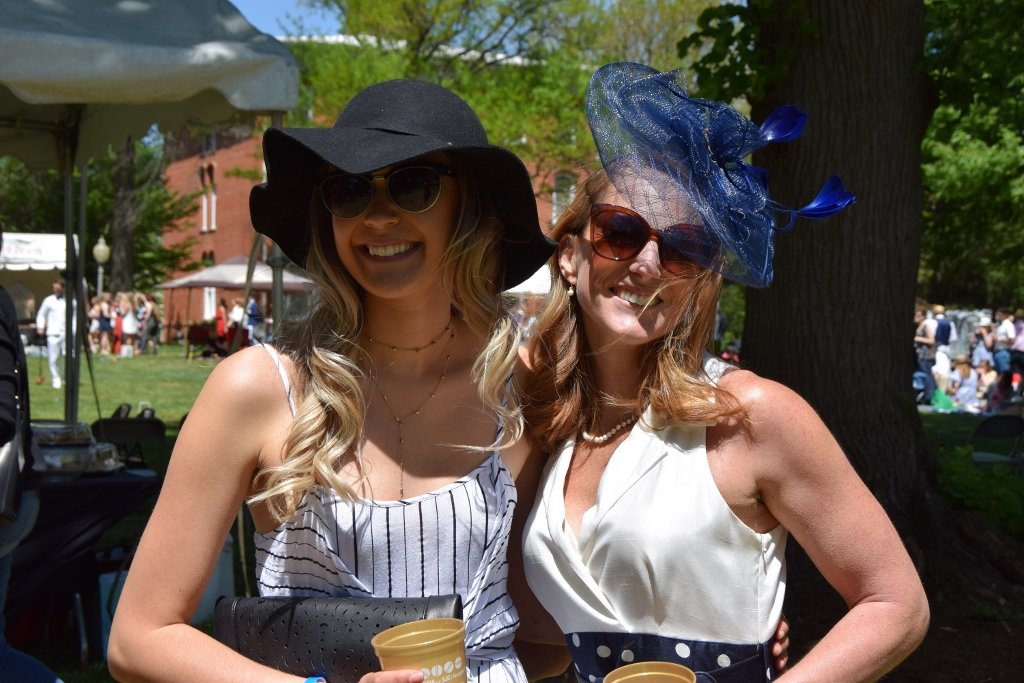 April 27, 2019 | By Kimberly Uslin
The Johnnies won the 2019 Annapolis Cup 4-1, marking their fifth consecutive win.
The St. John's College croquet team emerged victorious in the 2019 Annapolis Cup croquet match on April 27, besting the Naval Academy 4-1.
It was a windy day on the front lawn, and spectators held onto their spectacular hats as they set up picnics and posed for photos. Elsewhere, food trucks and the beer and champagne tents kept the crowds sated, while sets from the USNA Trident Brass Band and the Naptown Brass Band had attendees swing dancing in the grass and on the brick plaza outside of the Barr-Buchanan Center.
As always, fashion was front-and-center at the match, even (or perhaps especially) for the players. While the Midshipmen took to the court in their signature all-white ensembles—save for a bright yellow capital N—the Johnnies cut a colorful figure in sleek striped blazers, worn over their cutoff jumpsuits.
At first, it seemed like St. John's would sweep Navy. Val Pehrson (A19) and Mitchell Harris (A20) clinched the third victory in a row, marking an early win for the Johnnies and securing the Annapolis Cup. It wasn't too much of a surprise; the Johnnies had won the United States Croquet Association's National Croquet Championship only a few weeks earlier. All five matches must be played, however, and while the Johnnies took the fourth, the Midshipmen pulled off a last-minute score and narrowly avoided the shutout.
The win, which took place in front of a crowd of nearly 8,000, marked the 30th victory for the Johnnies since the initial match in 1983.
"Did we expect it? Not necessarily," says team member Jared Bassmann (A20), who will be playing in the under-21 croquet championship in England this summer. "Not 4-1. But it's always the hope to end it in the first round, because then we just get to have fun."
It was the fifth consecutive victory for St. John's. Last year, the pairing of Tom Balding (A20) and Sean Miller (A20) secured the win after a long day on the pitch, breaking a 2-2 tie. Several of the team members—including Imperial Wicket Chris "Mack" McGowen, who threw a croquet-themed gender reveal party for his newborn twins earlier in the year—had played in each of the previous year's matches and were eager to end on a high note.
"We really want to win," McGowen said in a pre-match interview. "I've played three years and I've won three years. I don't want the last year to be any different."
Please, Comment: