Adel Kamal takes the 5th Running of the Kamal Cup
by Michael Rumbin · 3 June 2015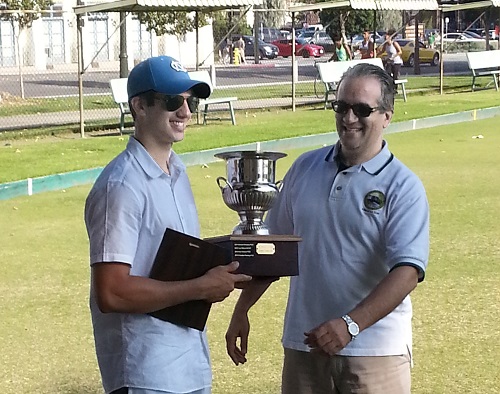 The Pasadena Croquet Club's annual Kamal Cup of GC singles was contested this past weekend. This year there were a record 17 paid entries and enough players to form three flights, Second (beginners), Open (intermediate) and Championship (advanced).
First and foremost congratulations go to Adel Kamal for winning the Championship flight and becoming the club's GC singles champion. His name will be added to the Kamal Cup, named after his father, Dr. Mohammad Kamal of the Pasadena Croquet Club. So now we have two Kamals listed on the Kamal Cup. Michael Rumbin of the Arizona Croquet Club entered the finals undefeated as the # 1 seed. In a grueling first to 10 format for the event finals, Adel established a three point lead by 1 back. The game point went to Adel at the "fish hook", 10- 6. Kory Teoman and Caren Sawyer tied for third. Nicole Rebec took the First Place honors in the Open Flight, and on a coin toss Samantha Collins took the honors over Barbara Doerr for Second Flight.
Looking back over the winners, it appears the mallet of choice for golf croquet is the WoodRanch HORUS, and the new HORUS II Egyptian Style Golf Croquet mallet. Egyptian-style Adel Kamal and Michael Rumbin both played with the new HORUS II Egyptian style Golf Croquet mallet from WoodRanch. These mallets weighed in at 2 pounds 5 ounces and were fitted with carbon fiber shafts and EVA oval grips. Nicole Rebec played with a HORUS fitted with a 34 inch aluminum shaft, total weight 2 pounds 8 ounces. Samantha Collins and Barbara Doerr also played with HORUS mallets. Samantha's mallet was the same Nicole's, only with a 32 inch aluminum shaft. Barbara played with a new HORUS fitted with a carbon fiber shaft weighing in a 2 pounds 4 ounces.Horus II Croquet Mallet flyer 2015.pdf
[, 613 kB]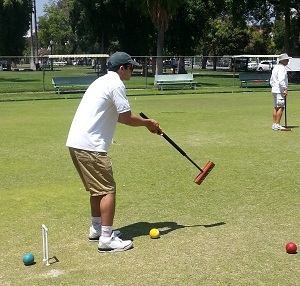 The most intense competition was in the Open flight, which had 8 equally matched players. Because two players dropped out at the last minute due to illness (including two-time defending champ Judy Warren), the six remaining players advanced to a seeded single-elimination knock-out play-off on Sunday after three "cross-block" games on Saturday. Carson Bond was the most improved player from last year, making many hoop shots from the line and surviving several 7-6 games to advance to the finals. She was met by Nicole Rebec, nicknamed "the Champ" after she won the club's handicapped GC singles event last fall. Nicole defeated Eric Harris by one wicket in an extremely close semi-final thriller, in which Eric tied the game late on a 16 foot hoop shot partially blocked by Nicole's ball.
True to form, Nicole and Carson played a highly interactive and entertaining final match on the north court. Some of their great shots caused "ooohs and aaaahs" from cyclists sitting on the grass outside the court. The game was tied at 6 and went to the tie-breaking "fish hook." Each player had a chance to win, but it was Nicole who played less aggressively and was able to score the winning hoop after Carson narrowly missed some aggressive clear attempts. Congratulations to Nicole "the Champ" Rebec for winning the Open Flight, and to Carson Bond for a worthy Runner-Up performance.
In the consolation match, Steve Miller, took control of the game early on with Eric Harris, with some solid and accurate lay-ups, hoop shots and clears. Eric had some spectacular shots and some spectacular misses, which opened the door very wide for Steven to strut through.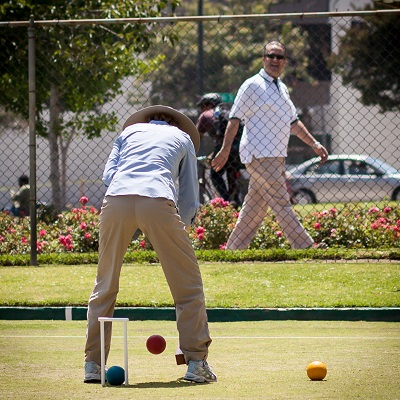 The Second Flight was mostly comprised of Salma Kamal and two of her friends from high school, Samantha Collins and Stephanie Chai. Salma's friends had never played croquet before. The flight was rounded out by local player Katie Anawalt and PCC member Barbara Doerr. Samantha and Stephanie took to GC quickly and played very well. In fact, Samantha made the finals. She was supposed to play Barbara, who also made the finals. But when Samantha realized she had to attend a concert with her father and had to leave before the finals could be played, Barbara offered to "flip for it." Samantha won the coin toss and the champion's plaque, while Barbara won the runner-up award and the admiration of those in attendance.
A Kamal Cup tradition is for something unusual to happen during the event. In some years, large tree trunks or limbs have snapped and fallen out of the blue. One year, a City truck accidentally ran over a park dweller. This year, the LA Metro Rail system put on their annual "CycLAvia" bicycle event in Pasadena, with a major hub on the street adjacent to our north court. During the Open flight semi-finals and finals, the players (and spectators) were treated to incredibly loud Zumba music.
Eric Harris served as the event photographer, taking many great action shots in all three flights. Interestingly, the attached photo was an inadvertent photo of Mohammad Kamal. He was walking to the clubhouse just when Barbara Doerr was executing a backwards jump shot at hoop 3. You can see him in the background, with a smile on his face.
And, of course, thanks to Dr. Mohammad Kamal and his family for lending their name and prestige to this event. Mohammad was gracious in handing out the awards in each flight.
I hope to see everyone again next year!
Commenting is closed for this article.