Contrasting equipment standards between 9-wicket and 6-wicket croquet
by Paul Bennett · 29 December 2018
When I first starting playing croquet in my family, we had a typical backyard set that most households in America bought from their local hardware or sporting goods stores. The typical set usually came with a stand for transporting the equipment to the field, 9 wickets, 2 pegs, 6 balls and 6 wickets. I refer to this as standard 1.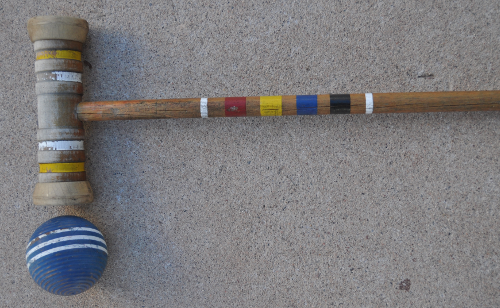 There were no flags to set the corners, no string for the boundaries and the wickets were made from wire that was not much more substantial than that from a coat hanger. They were light weight and bent in a semicircular fashion as shown. (As you can see, my set is missing a couple of balls, and I only have 6 wire wickets instead of 9. This is what you might get from an eBay seller. My mallets are old and the rubber has cracked on the ends of the face. This set is not up to the basic standard 1.)
In my family set, our wickets were much more substantial. They were made out of wrought iron and rectangular in shape. But still, this set was not like the one my grandpa used in his game that was played on a finely manicured clay court – smooth, flat and fast! His hoops were set in concrete and buried underneath the clay. He made custom mallets and the balls were made out of something similar to a bowling ball. They were smooth and colored White, Black, Blue and Red. A boundary was made using wire and the posts were also short and buried deep into the clay. This game was played by Archie Burchfield, a multi-time Kentucky state champion.
A championship 9-wicket equipment set is played using better wickets made out of steel, larger balls made out of plastic and a better wooden stake. I refer to this as standard 2. This is the standard I would recommend trying to get when practicing for and playing in tournaments.
A championship 6-wicket equipment set is played using custom mallets, better wickets made out of steel or cast iron, and heavier balls made out of plastic. The court uses standard dimensions fixed by string or painted on the lawn, flags to mark the corners, one peg in the middle and 6 wickets around the central peg. This game is played on a finely manicured lawn where great effort is made to keep the dimension of the hoops barely larger than the dimension of the ball. I refer to this as standard 3.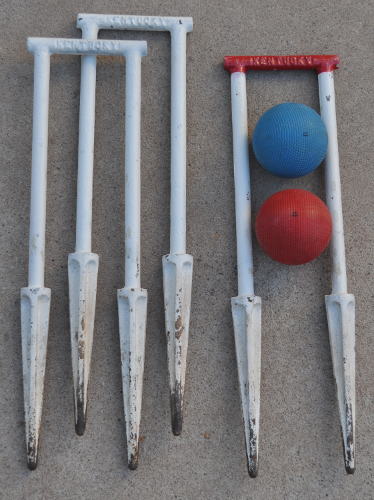 Table of Equipment – Contrasting difference between standards
| | | |
| --- | --- | --- |
| | width (inches) | weight (grams) |
| hoops | | |
| std 1 | 0.1212" | 30 grams |
| std 2 | 0.5066" | 995 grams |
| std 3 | 0.7388" | 2446 grams |
| | | |
| balls | Max (min) | |
| std 1 | 3.015" (2.980) | 208 grams |
| std 2 | 3.6052" (3.5501) | 340 grams |
| std 3 | 3.6148" (3.6073 | 454 grams |
Comments
As you can see from this table, the weights are substantially bigger in the Championship level croquet set. The major difference between 9-wicket and 6-wicket croquet should only be in the type of croquet field you play on; a regular cut lawn versus a flat short-cut manicured lawn. The dimensions are larger in both standards 2 and 3 and the weight in standard 3 is larger in both the balls and wickets. The balls in standard 1 are made of wood while those in standards 2 and 3 are made of plastic.
Since 9-wicket croquet can be played using "park style grass", the balls need to be a bit lighter than those used in 6-wicket croquet, thus "standard 2 balls" are preferred. The area required for a full size 9-wicket lawn is 100' × 50' and this is larger than most residential lawns – choose a local park to setup your court. This will allow you to meet and greet your neighbors and allow for more fun. You will find folks looking interested as soon as you begin.
The hoops in standard 2 are substantial and yet a bit wider than those found in standard 3. Since the grass is somewhat uneven in most spots and the ball tends to bounce rather than roll, the hoops can be a bit more generous on a rougher lawn while still providing good competitive playing conditions.
There will be another article on the mallets that can bought for use in advancing your croquet game. Most are of substantially better quality than those shown with the "standard 1" set. While they may be ordered custom made to your specifications, the standard model comes with a 36" shaft/handle and 9" long mallet head. The weight is just shy of 2.5 pounds (or about 2.5 times the weight of a std ball). The weight of championship mallets seem to be appropriate for 9-wicket players since the grass is taller and the energy required to move the balls is commensurately larger.
The object in the design of the equipment is to provide a challenging playing field, fair to all players and consistency in its playing characteristics. The equipment should last at least of decade of play while providing ease of use, setup and take-down.
Equipment providers please provide your additional comments, prices and availability.
Please, Comment: