Winter Croquet Project - Fixing up your equipment
by Michael Rumbin · 15 February 2017


EDITOR: This article was first published in 2013. If you live where the snow falls and you didn't get an invitation to play croquet at Mar-a-lago, it might be a good time to take a look at your old set and do some maintenance or repairs. Start with soap and warm water. A good cleanup will not only make the set look a lot better but also give you an opportunity to inspect all the parts and make sure something isn't broken or missing. In the end you will be ready for a new season with the old set, have a family heirloom to donate to your wife, or be in the process of ordering a new croquet set.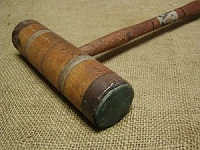 The biggest problem with old sets is the condition of the mallets. Often the head faces are banged up to the point where it's hard to get a reliable hit. The mallet handles too often warp making the swing off. Fixing the faces may be as easy as applying rough grade sandpaper to the faces and sealing with polyurethane. However, short of rotating the warped shaft in line with the head, it might necessary to replace the handles. This could be costly. Oak, hickory or hard maple is relatively expensive. Broom handle or tomato stake? Don't even consider it.
Next take a look at the balls. Most sets these days have plastic resin balls that are very tough. Older sets came with compressed wood flake resin balls that crack with heavy use. Inspect each. It might be better to use these old balls for decoration and order a new set. www.croquetyourway.com sells an excellent replacement called PROBALZ. Next inspect the wickets and stakes. Wickets get bent, loose their paint or get lost. If you are missing a wicket, it's easy enough to buy soft rod at the hardware store. www.oakleywoods.com sells replacement wickets too.Coat hangers? Don't!
Next are the stakes. Most sets come with stakes that are tapered to a point. These require a lot of pounding to get in the ground resulting in damage to the top. Consider cutting off the stake where the taper begins and putting in a 6 inch nail. Finally go over the ball clips, boundary stakes and string. Clips can be replaced with painted clothes pins. If you don't have boundary stakes string or flags, it might be time to consider adding those to your game. Same goes for a deadness board. The Croquet Store www.oakleywoods.com has a great selection of sets and accessories that will brighten up your lawn.


And you can always count on Joan Steffend to find new ideas for candleholders made from old croquet pieces and light fixtures. Take a look at
www.hgtv.com
for more ideas.
Let us know how you did.
Commenting is closed for this article.