Winter Croquet with a Swing Coach II
by Michael Rumbin · 7 December 2016
Winter is here. For many this means it's time to put the croquet equipment away and settle down for several months of hibernation. Like a well fed bear that burns away his fat, your croquet skills will dwindle down to skin and bones as the months drag by. In spring, hungry as can be, you'll start the skill building process all over. By Fall, you'll be a little better than you were last year, may be. It doesn't have to be that way. You could book a mid-winter vacation in the Sunbelt and play croquet for a week. Or, if you have an indoor space in the garage or basement, AND a Swing COACH II, you can continue to improve your game all winter long. Here is a video link to the Swing Coach II in use by Bob Kroeger .
The Swing COACH II is a revolutionary croquet training platform inspired by Reg Bamford, the world's most decorated croquet player and his swing trainer concept.
The Swing COACH II is available now in Kit form in the United States from WoodRanch Custom Shop. The kit comes with all the precut panels, drilled holes, and custom hardware for assembly. The finish work is mostly sanding and painting . The legs require attaching mounting plates with screws. Total time is about two to three days, mostly waiting for the paint to dry. If you're going to use the Swing Coach II indoors you can skip the painting and have the coach ready to use in less than an hour. The Swing Coach II kit sells for $295 plus shipping ( $50 UPS Ground).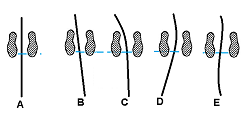 The purpose of the Swing COACH is to condition your mind and muscles to get a repeatable, correct stance and have a perfectly straight swing that results in predictably straight shots. With the COACH you have a frame of reference: the track for aim and the center line marks for foot and ball position. Standing in the Swing COACH aligns your body, whether you like it or not, to the direction the ball always goes because the mallet is always in line. Bamford says "practice makes permanent", not perfect. Without a frame of reference or a person watching your every swing you are bound to get it wrong, only then to make it permanent.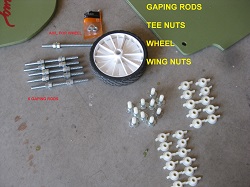 The Swing COACH gives you the best chance of being consistent because it makes sure that your mind and muscles remember what you should be doing. The coach track allows you to perfect the straightness and smoothness of your mallet swing. It consists of two panels separated by a bit more than a mallet width, between which you have room to go from a back swing to a fairly high follow through. A twist in your swing, a leaning shaft or improper foot placement will result in distinctive, audible scraping sounds and patterns on the inside walls of the Coach. Once your muscles and mind have learned how to avoid these problems you can step outside the trainer and repeat the exercise. Using the Swing COACH you can aim a ball at a target and hit 90% of the time, 23 of 25 shots.
To store the COACH, unscrew the four wing nuts in the midsection panel and remove the legs. These two sections can go in a corner of the garage 'till your next practice. The Swing COACHII is available from WoodRanch Custom Shop.Download additional information now:
Swing COACH literature2014.pdf
[, 1 MB]
Write to smrumbin@aol.com., or call 805-501-9908 if you have additional questions.
Commenting is closed for this article.