2012 - Sixth USCA 9-Wicket Nationals
by Bob Kroeger · 25 June 2012
The 2012 USCA 9-Wicket Championship Flight Nationals was held Friday June 1 – Sunday June 3 at the Mennonite Heritage Center in Harleysville, Pennsylvania. Running concurrent with the 9-Wicket Nationals the heritage Center put on a big charity fundraising event called the Whack & Roll Croquet Tournament (the 4th annual). There were over 200 participants playing on over 20 separate croquet courts set up on the surrounding grounds.
Friday featured singles competition with two blocks of six players playing five games each. On Sunday morning, the top two in each flight went into a single elimination semi final with the winners playing in the final. With the doubles, all teams played in a full round robin on Saturday with the top two teams playing for first and the third and fourth finishers playing for third the last round on Sunday.
The courts and weather were extremely challenging this year. Between the rain and threats of thunderstorms the players endured lots of inadvertent jump shots and good shots that went bad. Despite all that, there were plenty of spectacular shots connecting. Even with the challenging conditions, over half the games were complete (32 points) with many long breaks (multi-wicket runs).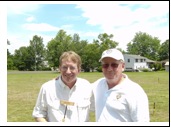 This year, the singles Championship final had 11th seed Stephen Morgan (6) victorious over six time USCA 6-Wicket National Champion Reid Fleming (1). We all wish Stephen a long and successful croquet competition. Doubles Championship finals had the team of John Warlick and two time 9-Wicket Singles Champion George Cochran beating Neil Houghton (1995 9-Wicket Doubles winner) and partner Kenster Rosenberry.
Singles
Stephen Morgan
Reid Fleming
Doubles
John Warlick & George Cochran
Neil Houghton & Kenster Rosenberry
History
The USCA 9W Nationals started in 1995 with 64 participants playing in the Harvard Commons in Cambridge, Massachusetts. Reid Flemming won the inaugural 1995 Singles Championship. It wasn't until 2008 that the second Nationals were held in Kansas City, Kansas, hosted by the Missouri Croquet Association. This was followed by three more National Championships in Kansas City, 2009 through 2011. This event in PA was the sixth 9 Wicket Nationals with 12 players playing both singles and doubles. The handicaps (6 Wicket handicaps) ranged from -2.5 to 8. There were a total of four minus players and one scratch.
Commenting is closed for this article.