2006 Cowboy Croquet: September Shoot Out
by Steve Fluder · 14 December 2007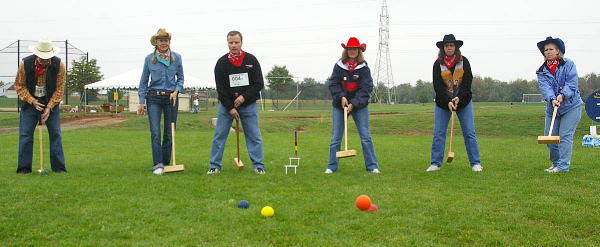 First Annual White Rose Croquet Tournament, Presented by West York Sertoma, for the benefit of Bell Socialization Services
York, PA, September 30, 2006 A croquet conflict of historic proportions took place at Morgan Cousler Park today under gray, ominous skies. There was heavy speculation from the locals about the strangers who rode in from Allentown (PA), Baltimore, and Tulsa. The townsfolk came out this morning to defend their place, facing up to the professional gunslingers with great courage as the shooting started. Tom Krause (the "Man in the Green Hat") and his partner Ray Cope ("Red"), the Allentown Croquet Cowboys, showed little mercy as shot after shot was scored in the first round.
Read entire article at Croquet Your Way.
Commenting is closed for this article.