'Wicket' Tradition Celebrates 30th Year
by Nayana Davis · 28 April 2012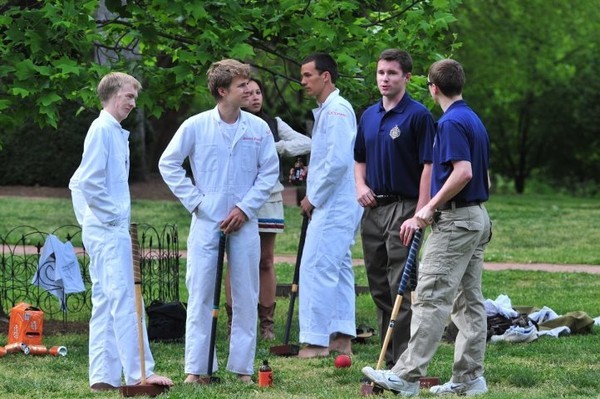 Article and photo reprinted courtesy Annapolis Patch.
It started with a bet.
According to legend, in 1982, a Naval Academy commandant boasted to a St. John's College freshman that the Mids could defeat the Johnnies at any sport.
The clever freshman, Kevin Heyburn, quipped "What about croquet?" and a longtime rivalry was born.
On Saturday, the Johnnies will once again face off against the Mids in the 30th annual croquet match. To the victor, goes the Annapolis Cup.
For the uninitiated, the object of croquet is to hit balls with a mallet through a course consisting of nine metal wickets and two wooden stakes. A point is earned for each wicket and stake made in the correct direction and order. The first side to score 14 wicket points and 2 stake points for each of its balls wins.
St. John's College has won the cup 24 out of 29 matches. But the Mids aren't planning to back down easily.
"The Johnnies' streak ends this weekend!," states the United States Naval Academy Facebook page.
In addition to croquet, the uniforms of the players are also cause for great fanfare. The Mids generally wear "croquet whites" with a team tie that changes every year. But the Johnnies uniform, which is revealed minutes before the game, changes every year and has included kilts, Viking outfits, tuxedos and camouflage.
Gregory Shook, a spokesman for St. John's, said this year's match will be extra celebratory because of the 30th year anniversary.
The game is scheduled for 1 p.m. on Saturday with a rain date of Sunday at 1 p.m. at the St. John's quad, according to the St. John's website. Outside alcohol isn't permitted on campus but beer, wine, champagne, food and soft drinks are available for cash-only purchase.
For full ground rules, check out the St. John's website.
Commenting is closed for this article.