2012 USCA 9 Wicket National Championships
by Michael Rumbin · 26 March 2012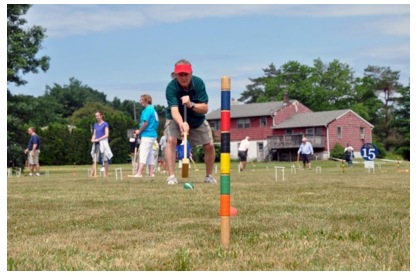 The USCA is happy to announce the 2012 9 Wicket National Championship will be held on the East Coast near Philadelphia, at The Mennonite Heritage Center (www.mhep.org) in Harleysville, PA. Dan Lapp, Development Director of the Mennonite Center and long time UCSA member has graciously offered their grounds, facilities and support. Our goal is to make the Nationals accessible to everyone in the US and Canada by moving the venue each year from the East to Central to the Western United States. Last year the Nationals were held in Shawnee Kansas. Next year we hope to invite you all to California!
With the tournament held in the Philadelphia area, we hope to see USCA members arriving from New Jersey, Pennsylvania, Delaware and Maryland by the car loads. This is a great area to visit with many historic and cultural attractions to interest the whole family. In other words, there will be plenty of time to play croquet, get a Philly cheese stake and have your picture taken by the statue of Rocky Balboa at the Art Museum.
The competition will run from June 1-3, 2012
On Friday, June 1, check in is at 7:30 am at the courts. There will be an opening reception for all players at the courts 8 AM by Bob Kroeger the Tournament Director. Schedules for play and court location will be available at that time. Friday evening starting at 6:00 PM there will be a Banquet and Entertainment hosted by the Mennonite Heritage Center.
On Saturday the 9 Wicket Nationals will resume at 1:00 PM and continue to 8 PM. Help on a quick court reset will be appreciated. Any players who cannot attend the opening reception Friday should be at the courts by 12:30 PM. Lunches will be provided each day.
On Sunday play will begin at 10 AM. Play is scheduled to be completed by 4 PM on Sunday in order to allow players to make travel arrangements.
There is no required dress code beyond the norm for any public event. USCA or club logo clothing is always welcome. Given the use of the foot roquet, sneakers or flat soled, closed shoes are advised.
Bob Kroeger is the Tournament Director; please contact him regarding any matter related to the tournament. His e-mail is: bobkroeger@aol.com. For other questions contact Michael Rumbin, Chairman of the 9 Wicket Committee, smrumbin@aol.com.
We wish everyone a great tournament experience and lots of fun.
Commenting is closed for this article.