WoodRanch 9 Wicket Invitational Results
by Michael Rumbin · 16 October 2011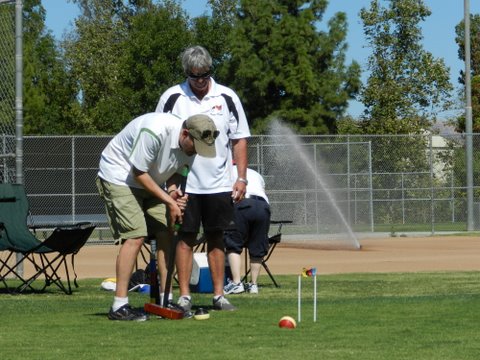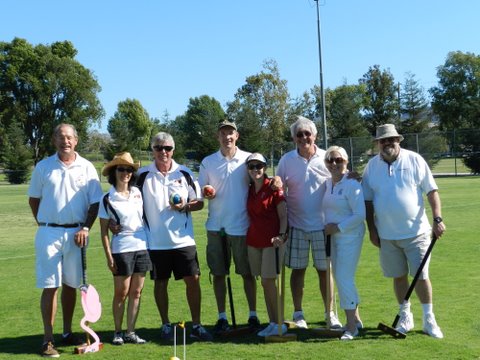 It was a beautiful sunny fall morning for the WoodRanch 9 Wicket Singles Croquet Invitational held at the Rancho Simi Community Park in Simi Valley California. Two full size courts were set up on a field of hybrid Bermuda cut to about ¾ of an inch. Standard nine wicket American Rules with a few special options were played, including all balls live after making the first wicket. At game time, the courts were still covered with heavy dew that wet the toes of our shoes and gave the more aggressive players a chuckle as 'rooster tails' flew off the croquet balls.
Two flights were established: the Novados, for newer players, and the Vaqueros, for more experienced players. Each flight played a round robin series of three games. The games were timed for 45 minutes, with a Sudden Stop to keep on schedule. Each court was double banked. Order of play was determined by a flip of a coin. The early Sunday morning park activities included soccer and believe it or not, cricket. For the first two rounds we had a cheering section of young soccer players. And through the morning, four separate cricket teams paraded past us on their way to another 'British' sport.
In the Novados Flight the players were: Betty and Kory Teoman from Mission Hills Croquet Club in Rancho Mirage, CA; Peter Reddy from WoodRanch Croquet in Simi Valley, CA ; and Laurie Mitchell from the Pasadena Croquet Club.
Kory and Peter qualified for the finals. Despite her 3rd place finish, Betty Teoman racked up an amazing 67 points in play, the highest of either bracket. She must have learned a thing or two watching those Mission Hills croquet players.
For the Vaqueros it was a battle between the Pasadena Club and the Rancho Bernardo Diegos. Eric and Caren Sawyer of the PCC squared off against Diegos Rich Schiller and Val Terry. In his first match Rich Schiller was able to "peg out" in less than 40 minutes. Rich ran a series of three ball breaks, one from wicket #3 to 5 back with a calm, deliberate control of the game. Playing Red-Yellow he methodically herded both balls to the final peg with time to spare. Eric Sawyer played an equally strong opening game and was able to move into the 3rd round undefeated against Rich Schiller. With a playoff pretty much secured for both players, these two concentrated on the strategies and specific tactics of their opponent. Sawyer emerged on top 19 to 6.
The Novados title match was watched by all and although there were no favorites, the spectators found no problem with cheering and jeering the contestants. For the second time in the tournament we witnessed a 'peg out' in less than 45 minutes. Kory Teoman from Mission Hills played a series of conservative two ball and three ball breaks to victory. Peter Reddy attacked from behind several times but was able to sustain a three ball break. From 3 back the game picked up the pace but not enough to stop Kory from running the final two wickets and pegging out.
At 2 PM Schiller and Sawyer squared off in the Vaqueros finale with Schiller winning the toss. Rich chose to go second playing Red-Yellow. So here we were, Blue three feet from the first wicket. Most of us expected a wild exchange. The grass had dried out, the court faster than in the morning games, and both opponents fresh out of their third round encounter. Sawyer taps Blue one foot in front of the first wicket. The classic Out Game! Rich responded with an offset stun shot that put Blue beyond the wicket and set Red to score. Eric responded with Black in kind. And so on. Sound like Golf Croquet?
Sawyer's strategy was to prevent at least one of Rich's balls from coming into the game, slowing down his aggressive and powerful offensive attacks. Rich broke through first and made a run to wicket 3 with his red ball. Eric followed two turns later with his blue ball. A one ball versus one ball, street fight ensued. The next 30 minutes was an interesting game of hide and seek, one ball 'breaks' and clever blocking of each player's second ball from entering the game. At one point Rich and Eric were 'wired' on the turnaround stake with no other balls in play! Whoever could play with their one ball the best would win.
Meanwhile, back at the first hoop, Eric continually cleared Rich's yellow ball, never allowing it to enter the game. The second goal of the out game is to find just the right opportunity to send your second ball into the game and establish a three ball break, hoping to bring the balls all the way back to the final peg. With less than 10 minutes to play, Rich saw that Eric was about to do just that. So he turned the tables and cleared Eric from entering the game with his second ball and in doing so prevented Eric from the three-ball break kill shot. Rich was able to win the battle at the turn-around peg with his red ball, and won the match 12 wickets to 9, an incredible ending to a great 9 wicket tournament.
In the closing ceremonies silver Revere bowls were awarded to the victors. All things being equal we should see another invitational challenge from WoodRanch Croquet in the Spring.

For those of you that have played on a 6 wicket course under American Rules, consider a 9 wicket game. You'll be surprised at the speed of the game and the amount of hand-to hand combat that takes place on that narrow court.
Michael Rumbin, Tournament Director
Results:
Vaqueros: Win-Loss- Tie Record
1. Eric Sawyer, PCC 3-0-0
2. Rich Schiller, Diego Croquet Club 2-1-0
3. Caren Sawyer 1-2-0
4. Val Terry 0-3-0
Playoff: E. Sawyer vs. R. Schiller Final Sore R. Schiller 12 to E. Sawyer 9
Novados: Win-Loss- Tie Record
1. Kory Teoman, Mission Hills CC 3-0-0
2. Peter Reddy, WoodRanch CC 2-0-1
3. Betty Teoman, MHCC 1-2-0
4. Laurie Mitchell, PCC 0-3-0
Playoff: K. Teoman vs. P. Reddy Final Sore K. Teoman 32 to P. Reddy 25
Commenting is closed for this article.