2009 USCA Nine-Wicket National Championships
by Matt Griffith · 15 December 2009
The USCA Nine-Wicket National Championships began on Friday, September 25 in Shawnee, Kansas, with sunny weather and temperatures in the 70's. Qualifying singles play was in two blocks of five players and one block of six, everyone playing four games. The courts were slow in the mornings with heavy dew which made it challenging to get across court. George Cochran and Matt Griffith went undefeated in the blocks. Eight players made it out of the blocks, the top two from each block plus two wildcards.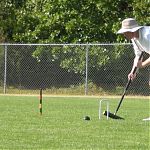 In the semi-finals George Cochran beat Matt Baird, while Matt Smith won a battle over Matt Griffith. This set up a rematch of last year's final. The finals were held just before the tournament dinner which allowed a large crowd to enjoy the match. Matt Smith won 32-23, reversing last year's result.
There were 10 teams in doubles, starting in two blocks of five with three making it out of each one. Matt Griffith and Billy Bob Breeden made it out of the block undefeated and had a bye along with Matt Smith and Nick Zink. John Warlick and Paula Mol won the right to play Matt and Nick. Matt Baird and Art Parsells advanced to the match with Matt and Billy Bob. Matt and Billy Bob tried to lose but prevailed on a stuffed wicket last turn. This set up the finals of Matt and Nick vs. Matt and Billy Bob. In a hard fought battle that could have gone either way Matt S. ran the last run for the win. It is always a little confusing when there are three Matt's and they all make it to the playoffs.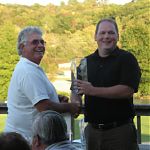 Cut-throat division this year included six players. The teams played on two fields, switching courts and ends. Participants played five games total with points given per place. The winner was decided by total points after five games. Newcomers Jason Cole and his dad Charles placed first and second, respectively.
The courts this year were in great shape. Kansas City had a cool summer which left the grass full and thick. They did not play as much of a factor as last year. The number of players was down a bit from last year due to the economy as other tournaments are most likely experiencing.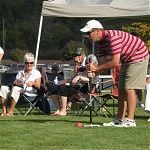 The Nine-wicket Nationals is one the best values around. The price included courtside lunches and drinks. After Friday night play, we headed to Kactus Creek Croquet Club for an impromptu cookout. The evening ended with a few rounds of golf croquet under the lights. Saturday play included pizza for lunch and the tournament awards dinner featured Kansas City's famous BBQ dinner at the courts.
The weather was great all weekend and play went off without a hitch. We look forward to hosting the tournament next year, keep an eye out for dates and join us next year.
Matt Griffith was the Tournament Director.
Singles
Matt Smith
George Cochran
Matt Griffith
Matt Baird
Billy Bob Breeden
Nick Zink
Don Brooks
Dylan Goodwin
Greg Clouse
John Warlick
Don Oakley
Art Parsells
Deborah Millican
Ron Millican
Harold Menzel
Paula Mol
Doubles
Matt Smith & Nick Zink
Matt Griffith & Billy Bob Breeden
Matt Baird & Art Parsells
John Warlick & Paula Mol
George Cochran & Harold Menzel
Don Brooks & Johnny Nichol
Greg Adams & Troy White
Greg Clouse & Dylan Goodwin
Eric Sawyer & Caren Sawyer
Don Oakley & Jodi Adams
Cutthroat
Jason Cole
Charles Cole
Ron Millican
Deborah Millican
Loren Winters
Dennis ?
Commenting is closed for this article.