2009 Lanterman House Croquet Tournament
May 23–24, Memorial Park, La Canada CA
The courts are fast and small (50' x 36'), which means teams are always in the hunt and the play is fun and exciting. This tournament is perfect for croquet beginners, 9-wicket enthusiasts and B-level 6-wicket players. There are four divisions: adult doubles and adult/child doubles, each with a champions bracket (for experienced players) and an open bracket (for everyone else). This is a single-elimination tournament. The winning team for each match is the one that first stakes out or has scored the most wickets after 30 minutes of play in the preliminary rounds and 45 minutes in the finals.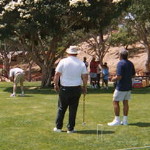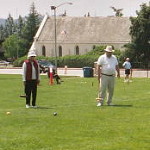 This tournament is in its 14th consecutive year of play and is part of the annual La Canada Fiesta Days celebration. La Canada is a charming suburb just 15 minutes north of downtown Los Angeles. The tournament fee is $20.00 per team. A tournament warm-up will be held in the early evening of Friday May 22nd. The tournament begins on Saturday May 23rd at 9:00 a.m. for the adult brackets (after a French toast breakfast event at Memorial Park) and 1:00 p.m. for the adult/child brackets. Adults who compete in the adult brackets can also pair up with a child in the adult/child brackets. The finals for all brackets will be held on the grounds of the historic Lanterman House on Sunday May 24th.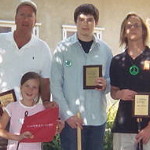 Awards will be presented afterwards during a wine and cheese reception. Stick around town and enjoy the other Fiesta Day events, such as an antique car show, community barbeque and big band concert, a free fireworks display and a popular 5k/10k running race and parade on Memorial Day.
To enter, send tournament fee with names and addresses of team members to:
LANTERMAN HOUSE CROQUET TOURNAMENT
Lanterman Historical Museum Foundation
4420 Encinas Drive
La Canada-Flintridge, CA 91011
For additional information, call Melissa Patton, Executive Director, at (818) 790-1421, or e-mail Eric Sawyer at eric.sawyer@dgs.ca.gov.
Posted 14 January 2009
Commenting is closed for this article.