2014 - The 3rd annual USCA Florida Regional Nine Wicket Tournament, Palm Beach, FL
by John Warlick · 28 December 2014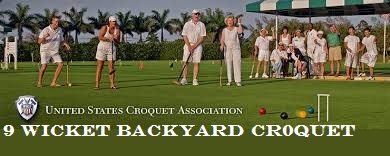 The 3rd annual USCA Florida Regional Nine Wicket Tournament was held December 5-7, 2014 at the National Croquet Center. The weather was perfect for both singles and doubles competition in two flights.
First Flight Doubles saw another repeat of last year's final as Craig Danna and Harry Ketchum (last year's winners) took on Jeanne Branthover and Gail Rubin. However, this year the women turned the tables on the men and won the contest. Congrats to Jeanne and to Gail for her wins in both singles and doubles!
Special thanks go to the entire USCA office staff (Shereen, Erica and Ursula) for all their work and support – before and during the tournament. The NCC Club hosting, along with the kind assistance and contribution from the Croquet Foundation of America, made this tournament possible. Thanks also, to Associate Tournament Director Bill
Gail Rubin was not only a winner in both contests- she also provided all sorts of assistance (including financial support) for this tournament. The lunches and happy hour service provided by Sandy James Fine Foods at the Center were roundly appreciated.
For more information Florida Regional December 2014
[, 175kB]
John Warlick, TD
Championship Flight Singles
Stephen Morgan
John Warlick
Bill Mead
Ian Harshman
Championship Flight Doubles
Stephen Morgan/Ian Harshman
Bill Mead/John Warlick
First Flight Singles
Gail Rubin
Harry 'Skinner' Ketchum
Craig Danna
First Flight Doubles
Gail Rubin/Jeanne Branthover
Craig Danna/Harry 'Skinner' Ketchum
We all had fun and are excited about the prospects for next year's Florida Regional before the Nine Wicket Nationals. Every player seemed excited that Washington, DC is being considered as a possible host city for the 2015 USCA Nine Wicket Croquet Nationals. Let's get DC going!!!
Commenting is closed for this article.