2013 US Open- Croquet Nationals
by Michael Rumbin · 1 November 2013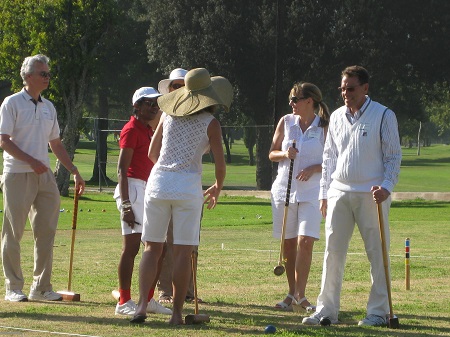 The Croquet Nationals will be held at the National Croquet Center in West Palm Beach, December 8th thru to the 10th.
Croquet players of all levels are invited to compete in this classic American game of croquet. If you played as a kid, play at family events or are a USCA member, this is the game for you. Don't be shy about mixing in with this crowd. The competition is divided into experienced players, "Championship" and casual players "First Flight". Bob Kroeger will be there as the Tournament Director managing the games and signing autographs along with John Warlick. Video for more information.
The tournament will use full size 100 by 50 foot courts with boundaries and be played on a relatively smooth, level short grass surface. There will be a welcoming gathering on Sunday and lunches provided as well. This is a great time of year to be in West Palm Beach. There are plenty of great places to stay and things to do for the non-croquet players in your family.
There will be plenty of First Flight players that are at your level. And this is an awesome opportunity to see how the game is played by some of the best people in the country. You'll see and learn more about the game of croquet than you know now or thought existed. You don't have to be current USCA member either. The entry fee will cover you with a year's membership in the 9 Wicket Group.
Sign up! Designate your level, come down to Florida for the weekend, and who knows, you might go home with a trophy!
Download the entry form today:
2013 Nationals Entry Form
[PDF, 57 kB]
Commenting is closed for this article.