St. Johns takes the Generation Gap Cup for 2013
by Bill Krause · 14 April 2013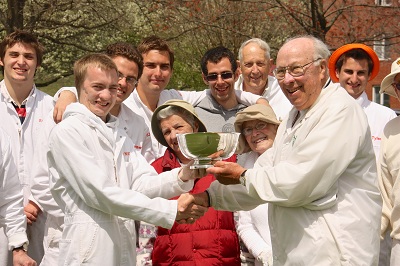 Saturday, April 13, the St. Johns College team defeated Ginger Cove 2 games to 1 to take the 2013 Generation Gap Cup. The Johnnies displayed their usual prowess, hitting the balls accurately through the wickets. They were good sportsmen in their victory.
After the tournament was finished the teams were rearranged so that a Johnnie played with a Ginger Cover as partners against a similar team consisting of a Johnnie and a Cover. This is a tradition that all the players enjoy and look forward to as a way to build new friendships.
Nancy Morgan and I won the only game for Ginger Cove in a decisive, 13 to 7 finish. The skills that Nancy and I developed while participating in a national tournament sponsored by the U S Croquet Association last month in West Palm Beach paid off. They surprised the Johnnies with their strategy and shot-making skills.
The first croquet match between Ginger Cove and St. John's College occurred in May 1989, only nine months after Ginger Cove opened its doors. The teams have played almost every year since then. The record now stands at 14 wins for St. John's College and 8 wins for Ginger Cove.
Mrs. Frances Hall, took several photographs of the croquet match with the St. Johns students that will be posted when they become available.
Bill Krause
Imperial Wicket
Ginger Cove
Commenting is closed for this article.