Nelson wins singles at Claremont Croquet Classic
by Michael Rumbin · 08/11/2016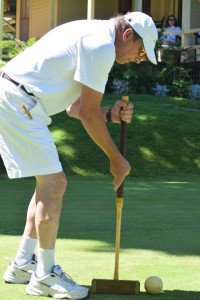 Author: Amanat Khullar
Amanat Khullar is a sports reporter for the Mount Desert Islander. She comes from New Delhi, the capital city of India and graduated from Columbia University's Graduate School of Journalism.
SOUTHWEST HARBOR — The hushed whispers of the half dozen guests encircling Claremont Hotel's croquet courts, together with the clicks of mallets against balls, were the only sounds during the final match of 2015 Claremont Croquet Classic on Saturday, Aug. 8.
Southwest Harbor resident David Nelson needed 16 points to win the singles championship of the tournament. His opponent, Don Parker, needed just two. Clad all in white, Nelson hit one carefully aimed shot after another. Minutes later, the crowd erupted in applause just as he made the final wicket of the tournament.
"I played high risk right through the end," said tournament director Nelson after winning the game 32 points to 30. "Otherwise, I knew I would lose."
Nelson has played the summer tournament held during first week of August on the Claremont's three courts for 29 years. "It's totally consuming when you're here," he added. "A lot of players here are on the same level of play. There's a lot of competition."
Will Fox, an 18-year-old summer resident from Chicago, along with his mother Ellen won the doubles championship 32 points to 4. Will and his younger brother John took the doubles title the past two years.
Runners-up in doubles play were Parker and Larry Stettner.
Croquet has a long history at the Claremont, where the game first started in 1977.
It's the allure of being a part of history and tradition that has brought the Foxes back every year for a decade.
Ellen Fox and her son Will took the doubles title at the tournament.
"Forty years ago, they were playing croquet on these courts," said Will. "I think of all that's changed, and years from now. I hope we'll still be playing croquet for singles and doubles right here."
Croquet is "chess on grass," he explained. It requires hand-eye coordination, with a goal of making wickets, along with strategically "burying your opponent's ball so they don't have a shot to gain control."
"It's not just about hitting the ball," added Ellen. "It's about thinking the next step and the step after that."
The weeklong tournament included players of a vast range competing for the winning title.
"People of all ages can complete equally here," exclaimed Clark Point Croquet Co. President Alan Madeira. "It's very unique when you can have a 14-year-old and someone who is 86 playing against each other in a physical sport and either one can win."