2015 NATIONAL CROQUET DAY
by Michael Rumbin · 2 August 2015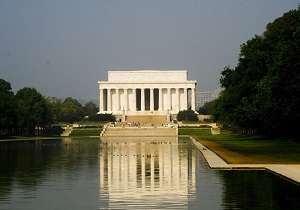 NINE WICKET CROQUET NATIONAL CHAMPIONSHIP
Washington DC, October 2-4
The United States Croquet Association has designated September 27- Oct. 3, 2015 as "National Croquet Week" and October 4Th as "National Croquet Day" for 2015. We will be holding the 9 Wicket National Championships October 2-4 on the National Mall at West Potomac Park, Washington DC. The view from the courts should be spectacular with the Lincoln, Washington and Jefferson Monuments all in view. The Registration Booth will be at Ohio Drive SW and West Basin Dr. SW. Entry Deadline: September 11, 2015
See Map below.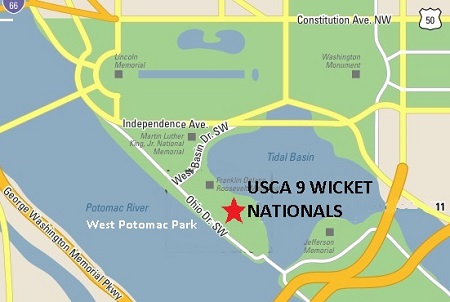 The competition will run from Friday, October 2 through Sunday, October 4, 2015 with a practice/set-up day on Thursday, October 1.
Championship and First Flight Singles and Doubles is Open to all skill levels, but be prepared to play against high level players. Standard USCA Nine Wicket rules with options 1, 1A, 2, 3, 5, 6 & 8. 1st Flight Singles and Doubles is for Handicap 9 & higher and players without a handicap. Standard USCA Nine Wicket rules with options 1, 1A, 2, 3, 5, 6 & 8.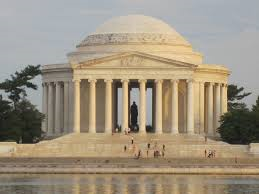 This year we are holding an Open Competition with the help of the Capitol Croquet Club on Sunday. This will be a six ball, Cutthroat style competition with specific "local rules" used by the Capitol Croquet Club. We hope to get as many as 48 new players on the courts this year from the local area including some Midshipmen and Johnnies from Annapolis, friends at Ginger Cove and other local clubs.
The nine wicket tournament offers rules similar to the family backyard game while playing on the old double-diamond layout that should be familiar to casual players. Along those lines, the USCA is offering a beginner's "first flight" division with a doubles and singles tournament that should appeal to novice and intermediate players.
The nine wicket game appeals to many players in part because of the unpredictability of the long grass court. The best skills and strategies are often subordinate to chance and luck making for a more entertaining game for both players and observers.
The Open Competition and Awards ceremony will be on Sunday. Check-in is 7:30 am at the courts. Play will start Friday at 8:00 am and is scheduled to be completed by 3 pm on Sunday. We would appreciate any help setting up the courts one hour before the games start. Lunches and refreshments are provided on Friday, Saturday and Sunday.
If you have any questions, contact Tournament Director, Roy Morgan thebankbilly@gmail.com, or 9 Wicket Chairman, Michael Rumbin, smrumbin@aol.com

The sponsors this year are: North Meadow Croquet, a manufacturer of croquet equipment. Please visit their website at North Meadow ; and the Capitol Croquet Club contact Roy Morgan, thebankbilly@gmail.com .
We wish everyone a great tournament experience and lots of fun.
Commenting is closed for this article.