Collins keeps the Cup!
by Michael Rumbin · 20 April 2015
This was a sweet win for St Johns, coming on a two year run by Navy. That brief streak ended Saturday, with a 3-2 St. John's victory.
2015 St. John's College Team:
Samuel Collins of Bucks City, Pa. The St. John's wicket is studying to earn his bachelor of Arts degree. Collins' immediate post-graduate plans include an internship on an organic farm until November. He is also applying to law schools for the spring 2016 semester. "I practice eight to 10 hours a week," said Collins. "I left the crew team to focus on croquet."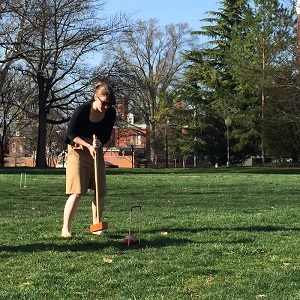 Imperial Wicket Samuel Collins (A15): Fallsington, PA
Matthew Denci (A15): East Greenwich, RI
Jack Whitman (A15): Escanaba, MI
Dylan Tyler (A15): Fallston, MD
Sebastian Abella (A15): Miami, FL
Jennifer Shumpert (A15): Reston, VA
Joe Gillespie-Hill (A17): Dayton, OH
Stefan Vasic (A17): Woodstock, VA
Stephanie Hurn (A17): Darien, CT
Noé Jimenez (A16): Brooklyn, NY
Shane Hettler (A18): Los Angeles, CA
Ambrose Donnelly (A17): Chicago, IL
More on Jennifer Shumpert from Brady Lee
2015 Navy Team:
Midshipmen First Class Eric Bermudez of Topsfield, Massachusetts was Navy's wicket — or team captain. A mechanical engineering major, in a few months, as a newly commissioned officer he will begin training aboard a submarine in Charleston, S.C.
This year's T-shirt theme was "Keep Calm and Croquet On." St, Johns came out in Hawaiian shirts, and Navy in whites, letter cardigan sweaters and a new bow tie theme.
Click on VIDEO for coverage of the tournament.
Commenting is closed for this article.