Menucha International Croquet Tournament - Portland, OR
by Michael Rumbin · 26 June 2014
The 7th annual Menucha International Croquet Tournament and Lawn Party is on for July 19! Menucha is a nonprofit retreat and conference center in the Columbia River Gorge National Scenic Area about 30 minutes from downtown Portland, Oregon.
" I can only imagine what east coast folks will think of the slightly-off-kilter approach we've taken to croquet. Maybe we'll just say that Oregon is a very come-as-you-are kind of state", Says Lauren Deming, Director of Marketing for the Menucha Retreat & Conference Center. Maybe so, but they are on to their seventh annual croquet event this July.
Last year's picture shows Samuel Reid's all black style the 4-time winner dressed in head to toe matching the color of the ball he usually plays.
This year the tournament will expand to include a 2-person "Partner Ball" competition and a Singles "Cutthroat" with trophies for each. "We're instituting a big change this year: for the first time in our 7 year history, each player must choose whether to compete individually or on a 2-person team" said Lauren. "Our champ's decided he will attempt to defend his title as a Single "Cutthroat" player".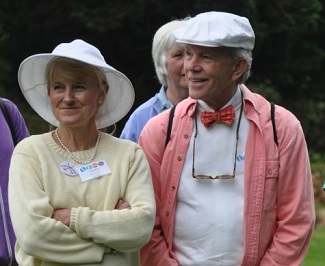 So the field is open, the competition is different and the options for competing are better than ever. Had your fair share of victories at "single ball" in the backyard and need a trophy to prove it, come on over. If you know another croquet player, or a special friend you're getting close to, no better time to form a bond than this tournament to partner up and take home a great memory and trophy to show for it.
For more information on times and location go to Menucha Foundation
Commenting is closed for this article.