Kansas and Croquet: Midwest Croquet Association Nine Wicket Ranking System- Part 1
by Michael Rumbin · 6 May 2014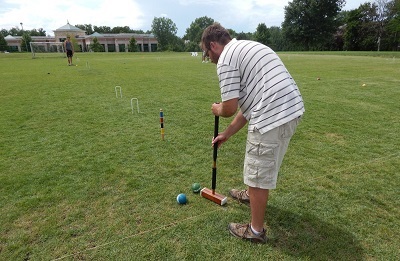 This is a two part feature article based on a question and answer interview with Dylan Goodwin, President of the Midwest Croquet Association and Owner/Publisher of croquetnetwork.com magazine and website. Croquet, the 9 wicket game, is thriving due in large part to the MCA. If you are looking for a program to build more membership, here is one successful approach.
How did you come to select and stay with 9 wicket? The USCA has encouraged Golf Croquet as a starters introduction to croquet. 9 wicket, while a well known backyard game is technically and strategically much more complicated than Golf Croquet.
It's a great question. Not sure that I can give a brief answer. I guess there are three factors that stand out among many for that decision. For starters, although I've found that GC can be taught quickly and people seem to really enjoy it, I haven't seen any evidence that it draws people into the sport when played on a non-court surface. And we only have one court in the KC area and for me it is on the opposite side of the city. If I had a court nearby, I would also have a GC program going. GC does work alright for fundraisers on regular grass, but I've never seen a conversion from that concept.
The other interesting thing that I encountered is that everyone new always claims they "know nothing about croquet." Great, so you start with GC and two questions always come up. First, do I get a bonus shot after I go through a wicket? And secondly, when do we get to hit the peg?
And I always say, "Look, you told me you had no idea to play."
And then the confession comes … well, we used to play when we were kids. I have found that most people have actually played the game, so they expect the double-diamond layout and they expect bonus shots and they expect to win if they get to the peg first.
(This makes me smile! Six ball croquet sets have been selling at an estimated rate of 200,000 per year in the US for the past 50 years. Even if only used once that's 1.2 million people each year that played the game. At a minimum, one out of every 7 people have played. Those that enjoyed the game as a kid are more likely to come back to it later in life. That's quite an impressive statistic to a marketer looking for associations.)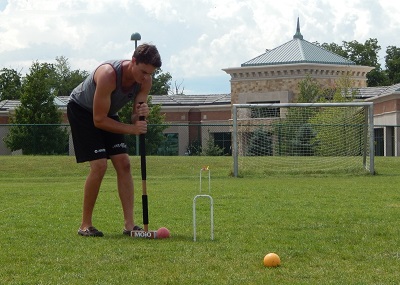 So if I try to teach them GC, it adds to the rules confusion. I figure it's easier to teach them the game they already know. Playing two balls doesn't really stump them that much.
The last factor has to do with the legacy of nine-wicket croquet in Kansas City. The scene blew up here in the seventies and everyone knows that the late Jerry Stark and current Team USA member Jim Bast started during that era. It carried on and although a schism which I don't fully understand had the local group on the ropes by the middle of the last decade, the MCA still formed in 2008 and was integral in bringing back the USCA's Nine-Wicket National Championship that year. That stayed in KC through 2011 and continued the tradition of nine-wicket play. I suppose the short answer is that most of the existing players were used to nine-wicket in either cutthroat or partner ball form, so it made sense to continue that way.
One other is that nine wicket game teaches croquet skills on a 60-minute clock. The better player is usually going to win, it's just going to take less time to get there. So for our new on-the-go culture, nine wicket is an easy intro to bonus shot croquet without the lengthy 2-3 hour AC game commitment.
Why did you create a ranking system?
The nine-wicket ranking system is really just a small component in the overall scheme of what we are doing with the Midwest Croquet Association. It serves as a tool for making sure blocks are balanced for events and could potentially be used to ensure people are not "playing down" a division. It also provides a little extra entertainment as another set of stats for players and fans to take in.
The thrust of what we are doing here is an annual series of nine wicket tournaments that have an ongoing points race. We call it the MCA Nine Wicket Series and the idea is to model our series off similar pro tours for other sports. It's still very grassroots, but I've emphasized that we approach every aspect of our series and tournaments from the perspective of how a pro tour would approach it. We have many steps to take, but my goal is to progress every year. For example, here in year two we are expanding with a tournament in Tulsa, Oklahoma through collaboration with the Tulsa Croquet Club. And my own company, Goodwin World Media is sponsoring the Pro Points with a small purse of $180 for the top three finishers in the overall race. It's a small step, but it's a preview of what is to come. Securing a title sponsor is high on the priority list as we expand.
How many players do you have?
We had 16 players play in the pro division and eight players play in the gold division in year one. There is some crossover there. The MCA was founded as the Missouri Croquet Association in 2008. When I became president near the end of 2012, I asked that we change the name to the Midwest Croquet Association since we were playing events in both Kansas and Missouri.
So right there in year one with the MCA Nine Wicket Series, we set a new record by attracting 22 members for 2013. And that helped us have our best revenue year as well.
With the USCA Nine Wicket Nationals coming back in September, I suspect we'll see more of the veterans in the area jump in this year as prep for that event. I was surprised that pretty much half of our series players last year were new to the game. We have a lot of local nine-wicket veterans that we need to draw back in.
How often do they 'compete'?
MCA Nine Wicket events pretty much happen every month starting in May and go through September. You can see our full schedule
So, far we have Lee's Summit, Missouri, Tulsa, Oklahoma, Parkville, Missouri and Belton, Missouri for 2014. Belton will be the championship tournament on September 13. And we're close to announcing a final event for the series for July that will be held in Leawood, Kansas.
Clubs in the area have regular weekly play.
For more information and current events go to MCA
Commenting is closed for this article.